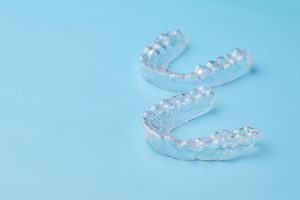 If you want to do something about teeth that are not properly spaced, you can choose to pursue care without wearing permanent metal braces. While these appliances are certainly capable of making lasting improvements, many who want orthodontic treatment can qualify for a less intrusive approach to care. Our Grapevine, TX dental office can discuss the benefits of Invisalign treatment for you. With this approach, you can enjoy corrective work from discreet, removable appliances that will make changes that address difficulties with gaps and overlaps. At the end of your adjustment, you can look forward to more than just cosmetic changes, as corrective work can actually improve your bite function and dental health, too!
What Invisalign Treatment Does To Improve Your Smile
Invisalign makes improvements to your smile by shifting teeth that are out of place. Whether you need to address problems with excess space or straighten out teeth that overlap, your custom aligners can make the right improvements and give you more confidence in the way you look. This approach to care can give you more confidence in your appearance by both correcting conspicuous flaws and resolving issues with an uneven smile. It can also help you maintain a more natural bite, and it can even help you maintain your oral health with greater ease.
Enjoying An Easy And Discreet Approach To Orthodontic Care
By choosing to pursue treatment with Invisalign instead of metal braces, you can make the work of straightening your teeth surprisingly easy to adjust to. After all, you will not have to worry about your appliances attracting unwanted attention, as aligners made from a clear material will help you keep a natural smile. You can wear them in social and professional settings without worrying about your appearance. You can also be relieved to have a treatment option that is removable, meaning they will not interfere with your quality of life when it comes to eating and cleaning your smile.
What Else Can Your Dentist Do To Improve Your Appearance?
Our practice provides a range of services that can help you feel more confident in your smile. Cosmetic dental work can take on different issues that you might have with the color, size, shape, or relative positions of your teeth. When necessary, we can also discuss restorative services that are capable of addressing poor oral health while also improving the way you look.
Talk To Your Grapevine, TX Dentist About Invisalign Treatment
Through Invisalign treatment, we can help patients gain more confidence in their appearance and improve their oral health with a discreet orthodontic adjustment. If you have questions about this or any other service that we offer, please contact Share Dentistry in Grapevine, TX today by calling 817-329-6000.