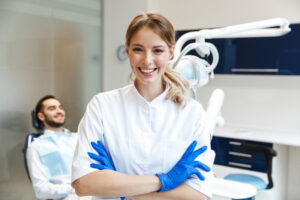 How often should you see your dentist? Unless you have already received instructions to follow a different schedule, you should make plans to seek routine oral health care every six months. When you are consistent about preventive care, you can enjoy important support against a range of potentially serious problems. Our Grapevine, TX dentist's office is happy to meet with you in order to discuss routine care. If we identify any problems with your oral health in the course of an appointment, we can review your treatment options and help you put any issues that we discover behind you!
Are You Taking Advantage Of The Support Offered At Regular Dental Checkups?
If you are not taking advantage of the services that your dentist provides during routine care, you can have a more difficult time preventing problems with cavities and gum disease. You also lose out on early warnings about problems with your dental health that can impact your quality of life and overall well-being. Another thing to remember is that regular checkups provide cleanings that remove harmful plaque and tartar buildup, which makes appointments effective for preventing further difficulties.
How Teeth Cleanings Help You Avoid Future Problems
Your regular teeth cleanings provide a valuable line of defense for your smile by removing harmful tartar buildup. Your brushing and flossing efforts will help you against plaque buildup, which helps you prevent the formation of tartar. Unfortunately, when deposits of tartar are already present, they can remain until your hygienist takes care of you. Tartar that is left behind will make you more vulnerable to decay and gum disease, and it will also hurt your appearance when it gathers in visible areas.
We Look Out For More Than Just Signs Of Cavities
The connection between preventive dentistry and restorative dentistry is an important one. If we spot a cavity during your checkup, we can restore your smile with a custom dental filling, a conservative treatment that provides lasting benefits. With that said, cavity issues are not all that we look out for. We will also evaluate your periodontal health, and look for evidence of jaw pain and stiffness connected to TMJ disorder. We can also look out for the early symptoms of oral cancer, a potentially serious problem, and one that certainly benefits from early intervention.
Schedule Regular Checkups And Cleanings With Your Grapevine, TX Dentist
If you are not taking advantage of the services provided during preventive exams, you lose out on important protection for your teeth and gums. Our practice is happy to meet with you in order to help you deal with plaque and tartar buildup, and to provide early warnings and treatments for active problems. If you want to schedule a visit, or if you have questions for us, contact Share Dentistry in Grapevine, TX today by calling 817-329-6000.