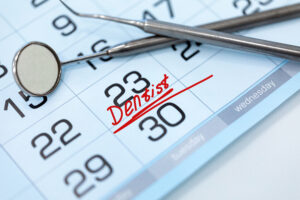 The care you take to keep your teeth clean will help you avoid potentially severe problems with your oral health. After all, every time you brush and floss, you fight both the oral bacteria that gather on our smiles and any food particles that might remain from recent meals and snacks. As important as this is, make sure it is not the only form of care that your teeth enjoy on a consistent basis. You should also take advantage of regular teeth cleanings provided during routine checkups. At our Grapevine, TX dentist's office, we can provide thorough cleanings to help you avoid the kinds of oral health threats that make more involved services necessary!
Is It Time For You To Have Your Teeth Cleaned Again?
For a typical patient, regular teeth cleanings should happen on a semiannual basis. Has it been more than six months since you last went to see your dentist for preventive services? Be careful about postponing appointments. The longer you wait, the more risks you face from the accumulation of harmful tartar, and the more likely you are to experience problems that require restorative dental work! We can make sure that your smile is fully cared for by removing any unwelcome materials found on your enamel in the course of your review. If necessary, we can even arrange a scaling and root planing to fight active problems with gingivitis!
How Regular Dental Cleanings Protect Your Oral Health And Smile
Whether you need a routine cleaning or a scaling and root planing at your next appointment, your session will benefit your smile as well as your oral health. A scaling and root planing is provided for a patient who has symptoms of gingivitis. During this procedure, your teeth roots receive attention so that bacteria under your gum line are removed. A standard cleaning will help with the prevention of gum disease by fighting plaque and tartar at the base of your teeth. The act of removing tartar during these sessions will help you preserve your health as well as your appearance.
What Else Can Regular Checkups Do For You?
When you book regular dental appointments, you receive thorough cleanings along with reviews of your smile to determine if you have any problems that might call for restorative dental work. We can also watch for other problems, such as the onset of gum disease, or evidence of TMJ disorder. Promptly identifying and managing these problems can benefit your smile and oral health.
Talk To Your Grapevine, TX Dentist's Office To Book Your Next Teeth Cleaning
When they occur on a regular basis, professional dental cleanings help you prevent potentially serious issues with dental decay and gum disease, and they stop noticeable tartar buildup from hurting your smile and well-being. Our Grapevine, TX dental practice is here to help you stay consistent with smile care. If you would like to find out more about how we can help you prevent problems, or if you have questions about any of our services, contact Share Dentistry in Grapevine, TX today by calling 817-329-6000.