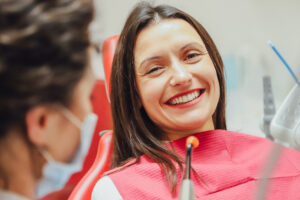 Your general dental appointments provide important feedback about the health and general condition of your teeth, and they can lead to the early detection and treatment of a cavity. While it is important that each appointment provides feedback about dental decay, this is just one of many concerns that we can help you manage. It is also important that you receive helpful updates that concern your periodontal health. Gum disease can take a serious toll on your overall health, and it can lead to significant oral health issues like tooth loss. Our Grapevine, TX dental practice can help you avoid these problems by providing general care through cleanings and reviews, and by offering targeted care to protect your gums when necessary.
General Dental Appointments Protect Your Gums And Teeth
The issues that we take on during general dental visits concern more than just your teeth and the threat of cavities. We also look out for troubling signs of poor health that can affect your gums and general oral structures, as well as signs of poor jaw movement and health. In other words, these visits do more than just provide a teeth cleaning and determine if you need restorative dental work because of decay. There are different actions we can take to help you. This includes the ability to help stop gingivitis and return your gums to good health before you have to deal with complications from poor periodontal health.
Recognizing The Warning Signs Of Gingivitis
At your appointment, your dentist will look out for the warning signs of gingivitis. Issues with tissue recession, swelling, and discoloration can all point to problems. Another worrying sign is a sensitivity to bleeding. For those patients who show signs of poor periodontal health, we can provide a scaling and root planing, an alternative to a regular teeth cleaning that will remove bacteria from under your gums. It is possible for you to spot problems in between appointments. When you do so, you can identify a need to practice more thorough brushing and flossing to fight bacteria that are starting to hurt your well-being.
Better Smile Care Through Preventive Appointments And Daily Smile Care
Should you depend more on your regular dental visits to keep your teeth safe, or should you count on your daily routine for protection? Both have value, which is why you should not neglect either, but instead make sure you have the support of each. At home, make sure that you thoroughly brush your teeth two times every day, and floss at least once. On a semiannual basis, make sure you have a scheduled dental appointment where your dentist can provide valuable care for your teeth and gums!
Talk To Your Grapevine, TX Dentist About Your Periodontal Health Concerns
Our practice is here to help you with your periodontal as well as your dental health. For more information, contact Share Dentistry in Grapevine, TX today by calling 817-329-6000.