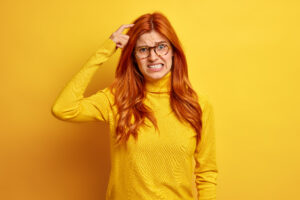 Any time you ignore a problem that seems to affect your smile, you put yourself at risk for real oral health issues. Nightly trouble with teeth grinding is something that you should take seriously. When you wake up with dental pain and sensitivity along with jaw pain and stiffness, it can point to an issue with grinding and clenching happening at night. If you do not do something about this issue, it can have real consequences for your oral health as well as your appearance. Fortunately, this is something that your Grapevine, TX dentist can help you resolve. In addition to providing custom guards to help patients sleep more easily, we can recommend restorative or cosmetic work to make sure problems with your appearance linked to wear and tear are managed.
Are You Harming Your Smile While You Sleep?
You should enjoy a good night's sleep on a consistent basis in order to maintain your physical and emotional health. Unfortunately, when you have a problem with bruxism that affects your sleep, the grinding and clenching can wear down your enamel and put strain on your jaw. The more nights you spend not resolving this problem, the more likely it is that you will have trouble with your appearance and oral health. We can talk to you about signs of bruxism during a dental exam, or we can meet with you if you have concerns to express about this issue.
Protecting Your Enamel With A Custom Guard
A custom oral guard will help you rest without harming your smile. Because the appliances we provide offer personalized fits, we can make sure that it remains in position and continues to protect you while you sleep. Its presence can also help you by easing tension on your jaw, which can reduce problems with pain and stiffness. Depending on the state of your smile when you meet with your dentist, you can also learn about options for cosmetic dental work or restorative treatment to address enamel damage. While cosmetic dental work provides solutions with more conservative services, the option of restorative dental work is available if harm to your tooth structure impacts your oral health as well as your appearance.
Talk To Your Grapevine, TX Dentist About Dealing With Teeth Grinding Issues
The longer it takes you to say something to your dentist about your nightly teeth grinding, the more likely you are to experience real dental damage. At our Grapevine, TX dental office, we can help with both the immediate concern around bruxism as well as problems with chips or cracks in your enamel. To find out more about how we can take care of you, contact Share Dentistry in Grapevine, TX today by calling 817-329-6000.