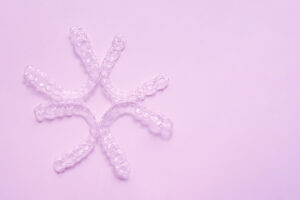 How comfortable are you with the idea of orthodontic treatment? For those who feel like their only option for corrective work will require the use of metal braces, this work can feel less than appealing even though it provides welcome cosmetic and oral health changes. Once you look into your options for care, you can find that there are alternative treatments available to you. With Invisalign treatment, our Grapevine, TX dental practice can help you take on gaps, overlaps, and other problems with your teeth spacing. As you rely on your aligners to straighten your teeth, you can see how fixing malocclusion can help you bring out your ideal smile!
Does Poor Smile Alignment Currently Affect You?
There are many issues that can stand between individuals and their best smiles. If your concerns are linked to difficulties with the spacing of your teeth, orthodontic services can certainly help. While there are times when metal braces are needed, many people who are self-conscious about malocclusion can find that they are eligible for care with Invisalign. These clear appliances can make treatment discreet, which means you will not have to worry about the impact that your appliances have on your appearance as you go through the work of fixing gaps, overlaps, and other issues.
Planning Treatment With Invisalign Aligners
Your Invisalign aligners will be made for your specific use. To ensure that they are the right shape and size, and that they will make the right movements, we will take detailed measurements of your teeth and oral structures. Each appliance takes you a step closer to your fully straightened smile, but all of them are designed to make your adjustment as discreet as possible. To stay on track with your adjustment, you should minimize the time you spend with your aligners out of place. With that said, you are free to take them out whenever they are in your way, which means they will not be a problem for you whenever you need to eat or clean your teeth.
Learn About Different Services We Offer That Lead To Cosmetic Improvements
For some individuals, we may be able to recommend cosmetic dental work to take on problems with spacing. You can find that these services provide results sooner, which means your improved smile is ready to show off in less time. With that said, an advantage to Invisalign treatment is that we will be able to make lasting improvements without modifying your tooth structure.
Talk To Your Grapevine, TX Dentist About Treatment With Invisalign Aligners
With Invisalign aligners, we can help you improve your smile while avoiding issues with treatment that might change your appearance or daily routine. If you would like to find out more, contact Share Dentistry in Grapevine, TX today by calling 817-329-6000.