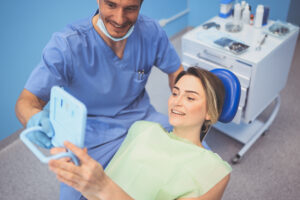 The formation of tartar can occur soon after plaque deposits become a problem for your teeth. In less time than you anticipate, plaque can calcify and become difficult for you to remove, leading to concerns about your oral hygiene and your risk for potential dental troubles. At our Grapevine, TX dentist's office, we can help you protect yourself by providing a thorough teeth cleaning whenever you come in for a routine dental checkup. These cleanings provide important long-term protection by lowering your risk for gum disease and tooth decay. They also provide a solution when you have visible tartar buildup that becomes a concern for the way you look.
Should You Be Concerned About Tartar Buildup?
To protect yourself against the accumulation of plaque and tartar, take the time to thoroughly brush and floss each day. When you do this, you can effectively remove bacteria and food debris before they can become stuck to teeth. An effective routine can certainly protect you, but it is important to remember that even with good habits in place, people can miss areas of their smile and wind up with tartar deposits. This should concern you, as these deposits can raise you risk for problems that require restorative dental work when they are not dealt with. Fortunately, your hygienist can find and remove them every time you come in for a routine oral health evaluation!
The Importance Of Regular Dental Cleanings And Exams
At every dental cleaning and examination, you enjoy preventive services that make you less likely to experience problems with your health and appearance. Your hygienist will carefully look over your teeth and take care of any harmful buildup found on them. With these materials removed, you are less likely to have future issues with dental decay or gum disease. To make sure that you have no active issues to worry about, your dentist will provide a careful review to see if there are any active problems that need to be managed at your appointment. If there are, we can provide care or make arrangements to ensure that more serious issues are fully treated.
Talk To Your Grapevine, TX Dentist About Scheduling Your Next Teeth Cleaning
The effort you put into caring for your smile is important, but remember that you should depend on more than just your own daily routine to keep your teeth in good health. During your routine visits to Share Dentistry, your hygienist can fight the accumulation of tartar and lower your risk for cavities, gum disease, and other concerns. If you would like to find out more about how we can help you protect yourself against problems, or if there are any active issues that you want to address, reach out to our Grapevine, TX dentist's office at 817-329-6000.