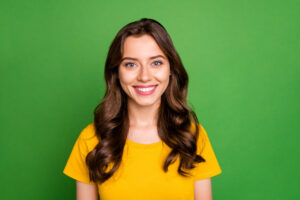 When you decide to arrange cosmetic dental services, it seems safe to assume you hope to enjoy more than just short-term changes. The improvements to your appearance should last, giving you sustained confidence in the way you look over a longer period of time. At our Grapevine, TX dental practice, we can recommend different approaches to cosmetic dental work that can deliver sustained improvements. One approach we can take is to place porcelain veneers on teeth. With these restorations, we can cover many different flaws with durable shells that can maintain their look for many years!
How Do You Feel About Your Smile Today?
Do you currently feel as though your smile is attractive as it could be? Many people feel that they are held back, with some feeling more concerns than others about issues like discoloration, dental damage, poor spacing, and more. It can be frustrating to have even one issue with the way you look, but it can be particularly tough to feel embarrassed by multiple flaws. Fortunately, you can take care of your appearance with a set of porcelain veneers. In addition to having significant benefits upon placement, they can provide sustained improvements that let you remain confident in how you look.
Planning Your Procedure With Porcelain Veneers
Porcelain veneers are custom-made restorations that can remain securely in place on the fronts of your teeth. Proper planning is important before your treatment. Care is taken to ensure that they are the right shape and size to fit in place and look natural. We can also provide careful preparatory work to ensure that they have the right fit. Your restorations will be bonded to the fronts of teeth to give them natural coverage. After this is done, they can be counted on to remain in place; with proper oral hygiene efforts in place, they will remain attractive over time and let you continue to show off a smile that you are proud to reveal to the world!
Discussing Other Services That Improve Teeth
There are other cosmetic services that can help you make lasting changes to your smile. With that said, it is sometimes more appropriate to move forward with restorative treatment. Teeth that are undersized or damaged may need the protection that dental crowns are meant to supply. Both porcelain and zirconia crowns can help you enjoy this support in addition to cosmetic improvements.
Talk To Your Grapevine, TX Dentist About Treatment With Veneers!
Our practice can take on many different concerns that people have about their oral health and appearance. When it comes to problems with your smile, we can offer sustained positive changes with porcelain veneers! These thin but remarkably durable shells take on visible problems with tooth shape, size, and color, and they can continue to do so for many years. If you are interested in learning more, contact Share Dentistry in Grapevine, TX by calling 817-329-6000.