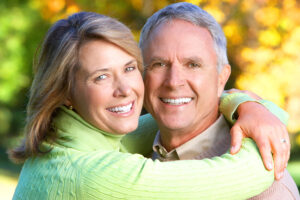 What kinds of services help patients who have experienced tooth loss? To fully take care of a person's incomplete smile, the right procedure should do more than just address the cosmetic impact of missing teeth. After all, you can experience more difficulties biting and chewing, and you can face a greater risk for losing teeth that surround an absence. If you want to learn how you can address the cosmetic and oral health issues associated with this problem, talk to your Grapevine, TX dentist about implant dentistry. Through this service, we can provide a restoration that is secure enough to help you bite and chew, as well as one that supports neighboring teeth.
Are You Frustrated With The Impact Tooth Loss Has Had On Your Life?
The impact of tooth loss is felt in several ways. These issues include immediate frustration as well as long-term problems that can worsen over time. In the short term, you can find that it is hard to bite and chew, and you can feel reluctant to even let people see you smile for fear they will notice the absence of your tooth. As time passes, poor bite function can lead to jaw pain that worsens, and you can lose more teeth! The good news is that with the right prosthetic dental procedure, we can take on these concerns and leave them in your past.
Planning Treatment To Restore A Dental Implant With A Prosthetic Tooth
By trusting your dental implant to keep your replacement tooth in position, we can offer meaningful support for your bite health, smile, and overall dental well-being. The implant is set in your jawbone to provide support for your restoration. It takes up the space that was once occupied by your natural tooth's roots. In this position, it can actually stimulate your jawbone and help preserve the health of the surrounding bone tissues. Its support for your restoration make it possible for you to bite and chew the way you once did, something that you can certainly appreciate. It can also help stabilize your neighboring teeth in order to lower their risk for being lost.
Stay Informed About Your Treatment Options At Your Regular Dental Exams
By regularly scheduling and attending your routine dental exams, you can be updated about different problems that can lead to tooth loss. You can also use appointments as opportunities to discuss what you would like to do to change your smile. If you are already missing teeth, we can talk to you about what can be done to help you regain your complete smile and improve your oral health!
Talk To Your Grapevine, TX Dentist About Implant Dentistry!
Through implant dentistry, we can help patients take on particularly frustrating issues with their dental health and appearance. If you would like to find out more, contact Share Dentistry in Grapevine, TX today by calling 817-329-6000.