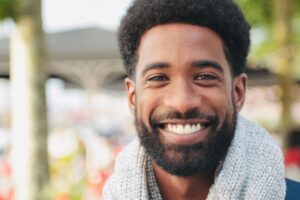 Whether it happened after an accident, as a consequence of teeth grinding, or for any other reason, it can be difficult to live with chipped teeth. Any damage to your enamel can be a cause for concern. Even if the matter is not serious enough to require more involved restorative services, patients affected by this issue can be eager to learn what they can do to put the matter in their past. Our Grapevine, TX dentist's office can help by providing different treatment options. If necessary, we can proceed with restorative work, such as the placement of dental crowns, but we can also provide more conservative cosmetic treatment options!
Are You Concerned That You Have Visible Dental Damage?
Any time our teeth appear to have imperfections, it can make it harder for us to smile with confidence. A once-lovely smile can quickly be tarnished by the presence of chips, cracks, and other forms of harm. When these problems affect someone, they can be embarrassed, but they can also feel uneasy about looking into treatment. What you can find is that there are many benefits to saying something about your desire for a more attractive smile. We can take on difficulties that you have with the way you look through conservative cosmetic treatment, or we can provide important protection for teeth that are impacted by more significant damages.
Restoring Your Smile Through Cosmetic Work
Through cosmetic dentistry, we can improve flawed teeth with conservative services that hide any embarrassing issues with your appearance like chips and other damages. You can explore the advantages of dental bonding work, or you can consider the positive impact of porcelain veneers. Both options only require limited preparatory work and changes to your enamel, and they can help improve the color, size, and even alignment of teeth.
Addressing Teeth Affected By More Significant Harm
If any of your teeth require more than just cosmetic work, we can let you know, and we can proceed with a more involved treatment that restores their health as well as the way they look. You can learn that certain teeth need dental crowns in order to improve their bite function and health; fortunately, the right restorations can improve how you look while also providing these benefits.
Talk To Your Grapevine, TX Dentist About Restoring Chipped Teeth!
Whether the damages are severe or more mild, it can be hard to accept that you are simply stuck with a smile that is not as attractive as you might like because of visible chipping. Restoring your appearance through conservative cosmetic treatment or more involved restorative services can certainly help. If you want to know more about what we can do to help you regain confidence in the way you look, contact Share Dentistry in Grapevine, TX today by calling 817-329-6000.