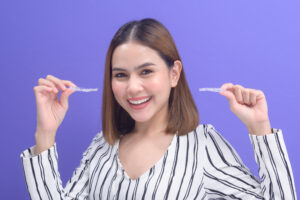 When you have a problem with your smile, it can be hard to shake the sense that people tend to focus on the issue, or issues, that make you self-conscious. Our teeth can attract considerable attention, which means that even minor issues can be identified with little effort. Cosmetic issues can be traced back to different concerns. For many, the concern is over the way teeth are aligned. Poor spacing can make you self-conscious about gaps and overlaps that exist between teeth, but you can also have problems with a general lack of symmetry. The good news is that there can be a surprisingly easy solution to this issue. Our Grapevine, TX dentist's office provides treatment with Invisalign aligners that make it easier for us to discreetly move teeth into their appropriate positions.
We Can Help You Improve An Uneven Smile
Poor teeth spacing can be a lifelong issue, and it can sometimes recur when orthodontic work has already taken place. Many who have problems with the way their teeth are aligned can express interest in a solution, but may be uneasy with treatment that calls for metal braces. There is an alternative that you can qualify for, one that uses clear aligners instead of metal braces. With Invisalign, we can make the work involved in fixing your uneven smile discreet. We should note that we can also discuss traditional orthodontic treatment for those affected by more significant problems.
Planning Treatment With Clear Aligners
A set of Invisalign clear aligners will be designed to help with your specific alignment concerns. Each one in your set makes part of the overall adjustment needed to completely correct your issues with the way you look. The entire set will be made to avoid unwanted attention, and they are all removable. As you move from one to the next, you can see how your smile is becoming more uniform, and how gaps and overlaps are steadily resolving themselves.
Other Solutions For Smile Flaws
There are times when cosmetic dental work can help people embarrassed by poor teeth spacing. In some cases, we can cover up embarrassing spacing issues with porcelain veneers. With this solution, you can see results in less time, which means you are closer to a time when you can show off your exciting improvements!
Talk To Your Grapevine, TX Dentist About Invisalign Treatment!
Through Invisalign treatment, we are prepared to take on problems with teeth that are out of position. By correcting problems that hurt the quality of your smile, we can give you a welcome confidence boost. With that said, we should note that orthodontic work can also have benefits for your oral health! For more information, please reach out to Share Dentistry in Grapevine, TX today by calling 817-329-6000.