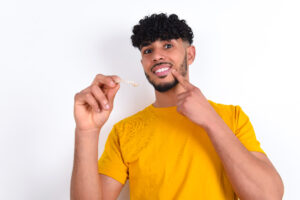 Until you do something about your poor teeth spacing, you can feel stuck with a smile that you are just not fully comfortable showing off to others. What you should know is that the work involved in correcting spacing issues can be easier for you than you anticipate. By talking to your Grapevine, TX dentist about Invisalign treatment, you can learn about the benefits of Invisalign aligners for correcting uneven teeth spacing. Problems with gaps and overlaps can be discreetly fixed, which means you can find the process of correcting them easier to agree to than you anticipated. Remember that we also offer traditional orthodontic appliances, which can make corrective work available to those with more significant alignment problems.
Does Your Uneven Smile Make You Self-Conscious?
If your smile's uneven, asymmetrical appearance makes you embarrassed, you can benefit from corrective work. What can surprise you is how treatment for less significant spacing issues can be surprisingly easy to fit into your daily life. With a set of Invisalign aligners, we can make gradual moves that bring your teeth into better positions. As you wear them, you can be relieved to see just how little they impact your daily life. This is thanks to how easy it is to remove them as well as their discreet appearance.
Beginning Corrective Work With Invisalign Aligners
When you begin corrective work with Invisalign aligners, you can find the adjustment to treatment easy thanks to their clear appearance, and because you will not have difficulty removing them. At times when you need to eat or clean your teeth, you can have them out of the way! For the rest of your day, keeping them in place can be easy because you can wear them without unwanted attention.
What Other Services Can Your Dentist Offer To Improve Your Smile?
There are people who can do something about spacing issues in less time than orthodontic work requires. This is because they qualify for cosmetic dental services that take on problems with teeth spacing and appearances that make them self-conscious. Your issues can be covered with porcelain veneers that hide gaps and overlaps. They can also take on discoloration, enamel wear and tear, and other issues, leading to larger overall improvements.
Talk To Your Grapevine, TX Dentist About Invisalign
Are you someone who is tired of feeling self-conscious about their appearance because their teeth are not in the right positions? Our practice is prepared to help, as we offer orthodontic treatment with metal braces and Invisalign aligners. Through the use of Invisalign, we can make the work to straighten your teeth easier by making it something you can discreetly fit into your current life. For more details, please reach out to Share Dentistry in Grapevine, TX today by calling 817-329-6000.