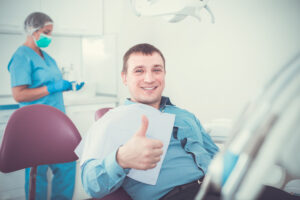 There are many dental appointments that conclude without any kind of restorative dental work. At a routine appointment where no problems are discovered, you will be able to finish your appointment after having a cleaning and careful evaluation from your Grapevine, TX dentist. However, if there is a cavity that you need to contend with, we can help by placing the appropriate restoration. The good news is that whether you need a crown or filling, you can count on the treatment to both protect your tooth and your smile. This is because we use restorations that match the appearance of healthy enamel!
The Right Restoration Can Offer Lasting Value For Your Smile And Oral Health
It is important that you receive the right restoration to take care of your tooth. If there is a lack of structural support, you can experience new problems with damage or an infection, which means further care will be required. You can also face concerns about crowns or fillings that stand out because they are not a good match for your enamel. It may be beneficial to have a more durable metal crown put in place on a back tooth, but your front teeth can look awkward when you do not receive a lifelike restoration.
Using A Dental Crown To Take Care Of An Advanced Cavity Or Cosmetic Concern
A dental crown can take care of a more severe cavity, and it can be used to take on cosmetic concerns from dental damage or naturally occurring issues. Once it is created, we can have it situated over the vulnerable tooth, capping it to ensure that it has lasting protection. The process requires two appointments. At your initial visit, we measure the tooth and determine what color, shape, and size your restoration should be. During your next appointment, we can make sure that the restoration is truly right for you before we set it in place.
Porcelain Veneers Are Thin, Durable Restorations That Offer Cometic Changes
Not every treatment that involves permanent restorations will require the kind of work that goes into placing crowns. Patients with cosmetic concerns can have conservative porcelain veneers placed on the fronts of teeth to make meaningful improvements. These thin shells can cover blemishes that affect your smile color, hide dental damage, and generally improve how you look!
Talk To Your Grapevine, TX Dentist About Treatment With A Dental Crown
Through treatment with a dental crown, our practice can take care of your smile and oral health, and we can do so while preserving your bite function. If you would like to learn more about the value of this kind of restoration for smile care, reach out to Share Dentistry in Grapevine, TX today by calling 817-329-6000.