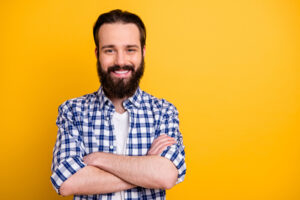 Do you feel a sense of dissatisfaction when you look at your smile in pictures, or when you check it in the mirror? Even minor problems with our teeth can be hard for people to ignore, as your smile can be among your most prominent features. At our Grapevine, TX dentist's office, we can provide you with different options for cosmetic dental work to take on these problems. One of those options involves the placement of porcelain veneers. The results you see from this treatment can be truly exciting. Through this one service, we can respond to issues with discoloration, dental wear and tear, problems with spacing, and other visible issues!
How Excited Are You To Show Off Your Smile?
All it can take is one noticeable flaw to make people feel less than thrilled to show off their smile. When you have several flaws that affect how you look, it can be particularly tough to feel at ease with your appearance. Fortunately, you are not stuck with problems that affect how you look. Whether you have naturally occurring issues with your smile, problems with teeth that have formed over time, or more recent concerns about dental damage that have affected your confidence, the right cosmetic dental work can help.
What Veneers Do To Make Cosmetic Changes
Through the use of porcelain veneers, we can make significant and lasting changes to the way a person looks. Their placement on the fronts of your teeth will hide blemishes and dental damage along with concerning problems with poor spacing. They can even help by adding to teeth that appear undersized. Because only a limited area of the tooth structure is covered, we can preserve more of your healthy enamel than you anticipate.
Other Services That Restore The Appearances Of Flawed Teeth
There are different treatments that help people show off more confidence in their smiles. With cosmetic services, we focus on issues that affect how you look. However, when you have problems that also impact your oral health, we can discuss a different approach. By capping flawed teeth with dental crowns, we can improve how they look as well as their ability to provide bite pressure.
Talk To Your Grapevine, TX Dentist About Treatment With Veneers
Through treatment with porcelain veneers, we can give you a smile that you are truly excited to share with the world. This one procedure can help with discoloration, problems with teeth spacing, wear and tear, and more! We are happy to talk to you about its benefits, and we can go over other treatment options that are available to you. If you would like to find out more, reach out to Share Dentistry in Grapevine, TX today by calling 817-329-6000.