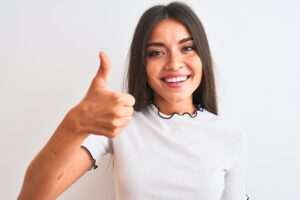 If you have set a goal of showing off a whiter smile, you should know that taking on discoloration without help can lead to frustration. There are products that can boast about making your smile brighter, but they can ultimately have less benefit that you anticipate. Fortunately, your dentist's office is able to help you. A cosmetic procedure that focuses on whitening teeth can help you see more significant changes, as your enamel can become brighter by several shades. Our Grapevine, TX dentist's office is prepared to offer this service to our patients. We do so by providing customized whitening kits that remove stains, even those that have settled and become particularly difficult to remove.
Are You Unhappy With Your Appearance Because Your Teeth Are Stained?
It can be difficult to remove everything that leaves teeth stains from your diet. Even if you do see through with this plan, you have the stains that are already present to worry about. Many people will decide to take this matter on with a whitening kit that they find at the grocery store or pharmacy, but this can less impact than desired. The reason for this is that these materials are limited in potency, which means tougher stains are less likely to budge. Fortunately, the more effective teeth whitening treatment kits that we provide can offer a more significant change!
Using Your Personalized Teeth Whitening Kit
Your personalized teeth whitening kit will have the bleaching agent that you require as well as custom trays that are used during the application process. A recommended number of daily applications will help you gradually change your appearance for the better. Typically, a few weeks of these sessions will be all that it takes to make the improvements that you seek.
Using Another Cosmetic Procedure To Improve Your Appearance
There are other solutions to problems with your smile. What might surprise you is that patients sometimes need a different approach to care even though they are seeking to whiten their teeth. Intrinsic discoloration refers to problems within the tooth structure that modify smile color. With porcelain veneers or dental bonding and contouring work, we can take on this issue along with others that hurt how you look. Sometimes, dental crowns are needed to hide this kind of discoloration.
Talk To Your Grapevine, TX Dentist About Making Your Teeth Whiter
If you have an interest in whitening your smile, say something to your Grapevine, TX dentist! Trying to deal with stains on your own can be frustrating. Taking the problem on with the help of advanced bleaching agents that we supply can lead to more impressive changes, something you can appreciate as you see truly remarkable results! If you would like to learn more, please reach out to Share Dentistry in Grapevine, TX today by calling 817-329-6000.