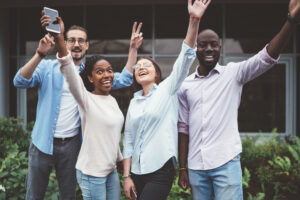 Tooth decay is a common source of dental health struggles. Since the enamel does not repair itself, any loss of this material can lead to lasting damage to the smile. This situation can come as a complication of bacterial infection due to improper oral hygiene. Dental erosion may also lead to the wear and loss of this vital tissue.
When decay becomes severe, it can endanger the future of the teeth. Infection can readily spread into the pulp and require a root canal surgery procedure. If this remains it may even grow into the bone of the jaw and lead to further issues with your comprehensive health. Your Grapevine, TX dental office is here for your enamel restoration needs, whether you require a filling or more extensive repair.
Protect Your Enamel
As enamel loss is often permanent, preventive care is important for keeping your smile fresh throughout your life. A strict oral health hygiene regimen including twice-daily brushing and routine flossing can be helpful in stopping tooth decay before it has a chance to start. If you eat after brushing at night, be sure to do it again before you sleep. You may be allowing for hours of uninterrupted bacterial growth throughout your sleep.
When these organisms form colonies, they create acidic waste that can dissolve the enamel. In order to protect our teeth, we must remove them before they cause lasting damage. Once that occurs, a physical repair may be necessary to ensure your smile is strong continuing into the future.
Restore With A Dental Filling
When a cavity becomes serious enough to require a repair, a filling can help to strengthen the affected location. Patients may try to put this procedure off, but it can be helpful in restoring your smile to its full functionality. Not only that, but you can renew your confidence in a healthy mouth.
One benefit of this process is that it is relatively quick. Reap positive preventive rewards without an extensive process. Our office can often place fillings in one visit, with only local anesthesia. This means that you should be up on your feet in short order. Planning ahead can help you ensure that the procedure fits within your schedule, so speak with a trained oral health provider about your enamel repair today.
Lessons For Your Oral Health
Whenever a dental emergency or chronic issue arises, it may be time to reevaluate your dental health routines and practices. Tooth decay can be a sign of inadequate oral home care or dental erosion from wear. Call Share Dentistry in Grapevine, TX today at 817-329-6000 to schedule an appointment for an examination. If a dental filling is necessary, rest easy knowing that you are reinforcing your enamel!