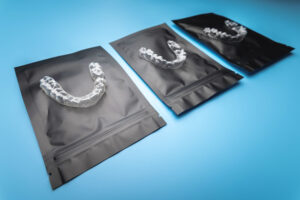 Alignment struggles can be difficult. Unlike some other forms of dental health concern, yours is on full display to the world. This can make the treatment of your alignment feel like its own sort of embarrassment. Discover the benefits of clear aligner technology from Invisalign®. This process operates in a sightly different manner than traditional braces, so it is important to understand the difference.
Clear aligners can be a helpful way of moving teeth because they maximize the amount of surface area. Spreading stress across more of your mouth can be a more comfortable experience. This also helps to quicken the time of your orthodontic treatment. Speak with us at Share Dentistry in Grapevine, TX about how neatening up your alignment can help you smile with a new sense of confidence. Discover how clear aligners from Invisalign® can give you a happier and healthier smile.
Make The Change For Your Health
The correction of the alignment of your smile can be an important way to prevent the buildup of plaque and tartar. When your teeth crowd, areas can develop that are difficult for you to properly brush. Overlapping can prevent you from comfortably flossing. If you skip this in the area, however, it can be disastrous for your smile.
Plaque and tartar begins to accumulate in the area. This material is bacterial buildup that contributes to enamel erosion. Initial film is called plaque and you can brush it off, but you require a professional dentist for tartar removal. Make sure to schedule your regular checkups every six months and bring up your alignment. Be proactive with your care for better results. Prevention plays a special role within dentistry.
Improve Your Image With A More Symmetrical Smile
Clear aligner technology can also help you to look your best. An imperfect smile can be something that you wish to hide due to embarrassment. This situation can hold you back in your professional and social lives. Orthodontic treatment that is nearly invisible allows you to continue to live your life while improving your cosmetic appearance. You have accessible treatment for your concern. Do not delay in treating your condition, as further problems could develop.
Invisalign® Clear Aligner Treatment In Grapevine, TX
Take advantage of novel technology and discover the benefits of Invisalign®.  Clear aligner treatment can help you to have a more symmetrical smile. Beyond the cosmetic benefits, your therapy could give you the tools you need to properly clean all areas of the mouth. Those problem areas could be developing cavities as we speak. To learn more about how this technology can help you, reach us at Share Dentistry in Grapevine, TX. Give us a call today at 817-329-6000 or conveniently book online.