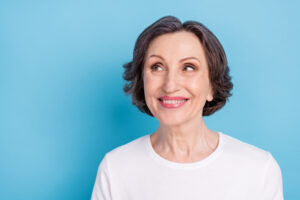 As you age, there are particular concerns of which you should be aware, so that you have the knowledge you need in order to make positive choices. Bone density decreases after the age of fifty, so once you reach this milestone, be sure to discuss your options in treatment with your health professionals. Since you cannot actively see the progression of bone density loss, it is important that you stay on top of your preventive measures.
At Share Dentistry in Grapevine, TX, we understand the aging process and how it relates to your oral health. Speak with a trusted provider about your current needs, and learn how you can positively adapt to changes in your care. For the repair of your existing natural teeth, we are here for your needs through procedures such as dental crowns and fillings. These help protect your smile from damage to the enamel, which can leave you susceptible to infection. If you are facing an extraction, talk with us about the versatility that comes with the placement of a new dental implant. Stay close to a dentist and discover the advantages as you age!
Caring For Your Existing Natural Material
Your preventive measures in your dentistry are as important as ever once you reach the age of fifty. If you have a habit of skipping your appointments for your semiannual checkup, it may be time to rethink your approach. Take the time twice a year to stop by the office for a cleaning and examination, and discover the advantages of diligent smile care.
If you require a repair, consistent meetings allow you and your provider to address this sooner. The time between your appointments can allow the progression of your cavity or infection. As you age, this becomes more significant, as bone density loss can create a pocket between your jaw and your tooth.
When You Need A Prosthodontic Solution
If you have recently received a tooth extraction(or a diagnosis requiring one), you have options in the replacement of your existing material. One of these possibilities is a dental implant, which uses a durable titanium rod to create a stable foundation for a new prosthetic tooth. Implants are a positive option for many seniors, as they can be modified up to a full mouth of implant-supported dentures. These do not cover the roof of your mouth, and can stay attached without messy adhesives!
Keeping An Eye On Your Smile In Grapevine, TX
The treatment of your smile is necessary throughout your entire life, and age-related concerns can be particularly pressing. For more information, speak with a member of our team at Share Dentistry in Grapevine, TX. Give us a call today at 817-329-6000 to schedule an appointment and get to know our practice before your visit!